One of my favourite things to make are bunnies, the smaller and cuter the better.
It's amazing how much personality can be added to some felt just by the application of a beady eye and a fluffy tail. Add some lavender and you have something that is practical as well as pretty, that can be hung from a door handle or placed in a drawer.
Over the years, I've experimented with a lot of rabbit shapes and have now settled on three: the tiny bunny, the garland bunny and the leaping bunny/hare.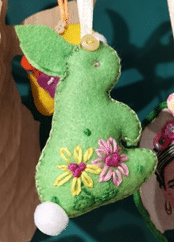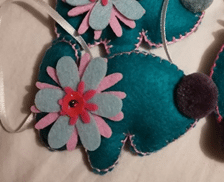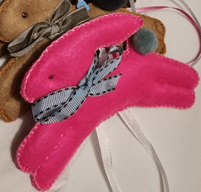 Each little bunny is cut out and crafted by hand using blanket stitch, a pom pom for a tail, a bead for an eye and ribbon to hang it from.
The ears and feet are stuffed with non-organic filling and the tummy is packed with lavender.
I have great  fun thinking about colour combinations. I love to contrast rather than match and think that having bold colourful flowers really adds to the appeal of the item.
Making little lavender-filled animals might be my new craze.
I'll also be developing the leaping rabbit shape into a fox and a badger, so watch this space!