Thanks to my lovely Hairdresser Jane, I have branched out into manufacturing dog bandanas. They are not on the website yet, but should arrive in the New Year.
There are two types: on the collar and the traditional triangle bandana. It's great fun to add a seasonal flavour like this Halloween bandana modelled beautifully by Fred (below left) and the more traditional biker bandana as shown off by Brodie (below right).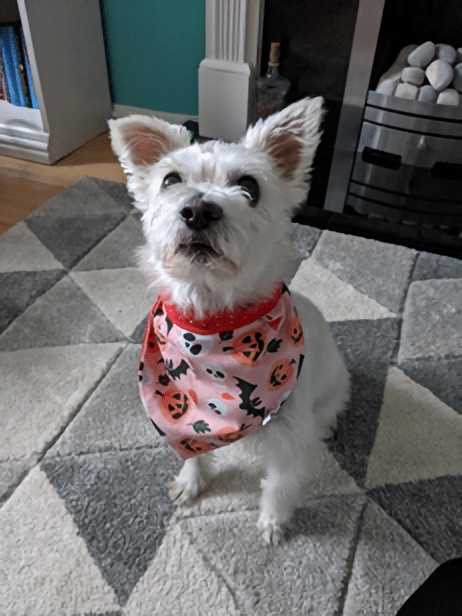 Sizing the bandanas has been a real task. They need a lot of material and both dogs are wearing a reversable medium triangle bandana. Each is embellished with a cute wooden bone button.
I need to make some larger bandanas for Labradors and even larger ones for Newfoundlands (I'll need a table cloth for them!).
I like experimenting with fabric and doggy accessories and my next project will be bow-ties, which no distinguished dog should be without. Plus something for the ladies; possibly a rosette.
Regardless of what I try I think the bandanas are here to stay.
Prices will start at £4 for extra small amd small, rising to £12 for the St Bernard in your life.
Commissions for horses also accepted.